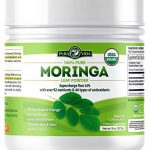 Moringa is chock full of vitamins, minerals, protein and amino acids, it promotes  wellness and youthful vitality.
From India, Pakistan, and Nepal, this  plant has been used for generations in Eastern countries to treat and prevent diseases such as diabetes, heart disease, anemia, arthritis, liver disease, respiratory, skin, and digestive disorders. It is said to be great for arthritis, blood pressure, cholesterol, balancing hormones,  inflammation,  eyes, bones, and improves protection against cell damage. Moringa also supports brain health and cognitive function because of its antioxidant and neuro-enhancer activities.
Watch the videos.
 14 Moringa Health Benefits – Amazing Benefits of Moringa for Your Health
https://youtu.be/9svA09vNxco
Moringa Oleifera – The Amazing Benefits of Moringa
https://youtu.be/oMowTjkGg-U
My Arthritis CURE | 4 years so far
https://youtu.be/vYDnDq5nPcA
Moringa Documentary – the 'miracle' tree
https://youtu.be/L9tdLn_Zk1Mblood sugar,,s that create 
Are you looking for a natural treatment for bone density and heart health? 
As I talk with my clients, I am finding out that very few people know the benefits of Vitamin K2. This powerful nutrient plays an essential role in many aspects of your health. 
Vitamin K2 is emerging as a key factor in regulating calcium in the body by taking it out of the arteries and putting it into the bones.  K2 has been shown to substantially improve bone density and therefore, has good potential as a natural osteopenia and osteoporosis treatment. Studies have found statistically significant increases in bone mineral density after K2 ( MK-7) supplementation. Recent studies show that using a dose of at least 100 mcg per day can lead to greater bone mass and lower rates of fractures. 
Studies have also shown that even modest amounts of vitamin K2 fights heart disease by controlling calcium-regulating proteins in vascular tissue, which keeps calcium out of the arteries and prevents the formation of dangerous calcified plaques.
–YouTube Video on K2
– Use this form of K2 – Mk4
– Additional brain and kidney benefits